What's Shrubwell?
A concentrated mixer made with ripe fruit, fresh botanicals, and whole spices, preserved with aged vinegars for a multidimensional flavor that's tart, fruity, herbal, and lightly sweet.
Shrubwell is a drink for everyone, a single flavor can be mixed for drinkers and non-drinkers alike, so no one is left out at your social gathering.
Simply pour 1 oz over seltzer and ice for a refreshing mocktail, or mix with your favorite liquor for a complex cocktail.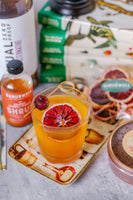 Easy To Use
Perfect for home bartenders!
Mix A Cocktail
1 oz Shrubwell +
2 oz Any Liquor +
A Splash of Seltzer
Make A Mocktail
1 oz Shrubwell +
6 oz Seltzer -or-
Iced Tea -or- Lemonade
-or- Ginger Beer
Mixes Great With Vodka, Gin, Tequila, Mezcal, Whiskey, Rum, Brandy, Beer, Sparkling Wine, and so much more!
We're always discovering fun new drink recipes that we love to share!
Explore our recipe book of shrub cocktails and mocktails for delicious drink ideas.

Open Recipe Book
Rim Decor Cocktail Garnishes by Shrubwell
Rim Decor

Dried Garnishes