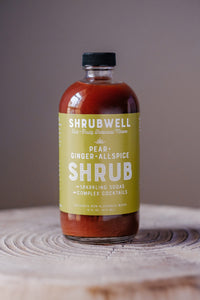 Welcome the holiday season with this spicy smooth shrub featuring a blend of sweet pears, peppery ginger, aromatic allspice, and warming cinnamon. Share at a holiday gathering or simply enjoy beside a fire. Add to hot water for a shrub warmer, top your chai tea or mix a cocktail with Bourbon, Rum, Vodka, Brandy or Sparkling Wine.
All Natural • Vegan • Gluten Free
Shrubwell drink mixers are hand made in small batches using a unique blend of ripe fruit, fresh botanicals, whole spices, and organic wood aged vinegars. Our shrub mixers are lightly sweet and feature bold fruit flavors, fresh botanical layers, with a tart & tangy finish.
Shrubwell is highly concentrated, so a little goes a long way!

4 oz Bottles Make 4+ Drinks
16 oz Bottles Make 16+ Drinks
How to Use Our Shrub Mixers
For a Cocktail:
Mix 1 oz Shrub with 2 oz liquor + top with seltzer


For a Mocktail:
Mix 1 oz Shrub with 6 oz seltzer