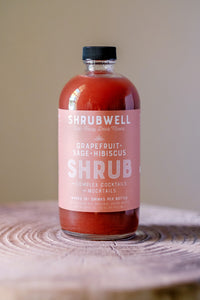 As winter starts to fade and the days grow longer, Arizona citrus harvest begins. With tart grapefruit, piney sage, tangy hibiscus, and floral orange blossoms to finish, this shrub captures the bounty of the desert. Add to sparkling water for a refreshing mocktail or mix a cocktail with Tequila, Mezcal, Vodka, Gin or Sparkling Wine.
All Natural • Vegan • Gluten Free
Shrubwell drink mixers are hand made in small batches using a unique blend of ripe fruit, fresh botanicals, whole spices, and organic wood aged vinegars. Our shrub mixers are lightly sweet and feature bold fruit flavors, fresh botanical layers, with a tart & tangy finish.
Shrubwell is highly concentrated, so a little goes a long way!

4 oz Bottles Make 4+ Drinks
16 oz Bottles Make 16+ Drinks
How to Use Our Shrub Mixers
For a Cocktail:
Mix 1 oz Shrub with 2 oz liquor + top with seltzer


For a Mocktail:
Mix 1 oz Shrub with 6 oz seltzer